Roaming Farm Natural Beef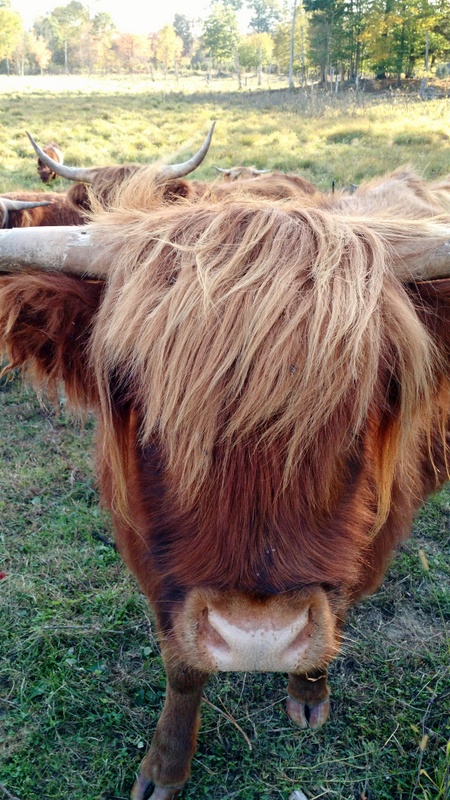 Roaming Farm is a family owned and operated farm located in the heart of the Pioneer Valley. Our cows are born and raised here on the farm, spending their lives in a humane, natural habitat.
We sell natural beef from our home in packages or by individual cut. We also provide a beef CSA delivered to your home. We are open on Saturdays from 9 to noon, and almost any time we are home - but it's best to call or email first if you don't come on Saturday morning.
Good things take time. Highland cattle are a heritage breed whose slow growth produces tender, flavorful meat. Like a fine wine, the extra time spent "aging on the hoof" noticeably enhances the quality of the meat and harkens back to a time when life was simpler.
Highland beef is healthier. Studies have proven that Highland beef has about half the cholesterol and one-third the fat of other beef, and also has about 30% more iron and protein.
The cows are so cute! Yes they are. Highland cattle are a heritage breed known for their lean meat with a gourmet taste. But they're also known for their long hair. We've been asked if they are buffalo or yaks - they're not, they're just fuzzy cows.
More information. Read on to find out more about highland beef and our management practices, check out some pictures of cute cows, go straight to our price list, or contact us with any questions.

Roaming Farm Beef
Hours:
<!- Saturday 9-noon And -> Open any time by appointment (call, email or text).
80 S. Mill River Rd.
South Deerfield, MA
Our beef:
Highland Cattle
Pasture Raised
Pasture Fed
Humanely Treated
on a Family Farm
No Added Hormones
No Antibiotics*
Low Fat & Low Cholesterol
High Protein & Iron
*No antibiotics are used to promote growth. We would use antibiotics if a cow were ill.